Description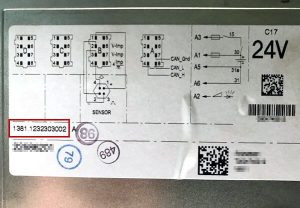 Please pay attention to this note before purchasing this item. To make your experience as good as possible, we need to know more information about your truck so that we could set up the emulator for maximum compatibility. We need to know the year or production of your vehicle and the code located on the original tachograph of your vehicle (you can see an example on the right). Please provide this data and the data required individually by each model under product selection (select vehicle model and you'll see the red text below) by email or in the "Additional information" field (checkout page). Thank you.
Tachograph Emulator DTCO SIM CAN device is made to replace tachographs on vehicles where it is not mandatory but still needed for other systems to work correctly. Tachograph Emulator DTCO SIM CAN module simulator generates several signals like V imp, 4 imp/m, zero speed signal, vehicle speed (via CAN), distance traveled (via CAN or K-Line), date, and time (via CAN or K-Line). All tachograph simulator signals are compatible with ISO 16844-1. The device is powered by a 12V or 24V power supply (40mA consumption).
Tachograph Emulator DTCO SIM CAN signal simulation
Also, it has a "k" constant setting range of 4000 ÷ 64000 imp/km, 8V DC power output for the speed sensor. The module operates in the temperature range from –40°C to +85°C. Tachograph Emulator DTCO SIM CAN could be reprogrammed for better compatibility to match all settings as necessary. Several parameters of tachograph simulator DTCO SIM can be changed like odometer, (w) characteristic constant of vehicle, (PTO) number of impulses per one shaft revolution, (ES) product code, (VIN) vehicle identification number, and system time.
Attention!It's illegal to use this equipment in several countries. You assume full responsibility for the use of the device. It's your decision to use a tachograph emulator or not. We will not accept any liability for any consequences associated with usage of tachograph simulation devices.