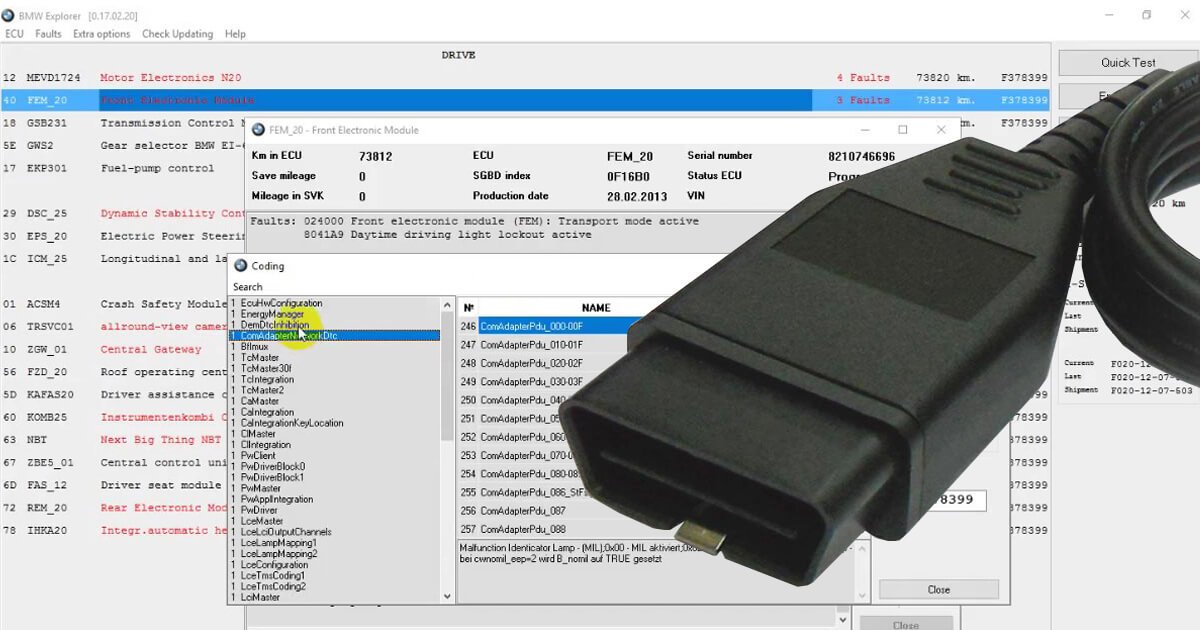 BMW Explorer is an ultimate software and hardware kit if you're looking for a really serious diagnosis, programming, codding and maintenance solution for your BMW workshop. Unbeatable performance and capability list. There are no alternatives for this amazing kit if you work with BMW, Mini, and Rolls-Royce vehicles. It has a very wide range of supported models, ECU's and functions. BMW Explorer is available in two versions – Basic and Full.
BMW Explorer compatibility
BMW (2003-): E60, E65, E66, E70, E71, E81, E82, E87, E88, E90, E91, E92, E93, F01, F02, F07, F10, F11, F12 ,F15, F16, F20, F21, F30, F31, F32, F80
Mini Cooper (2005-): R56, R60
Rolls-Royce (2003-)
Supported modules: CAS, DME, EGS, EKPM, GWS, VTG, ASR, CIM, DSC, EDC, EDCSHL, EDCSHR, EDCSVL, EDCSVR, EHC, EMF, RDC, VDM, AHM, AMP, BFH, BFS, BZM, CCC, CDC, CHAMP, CIC, CID, DWA, ECL, FAH, FAS, FLA, FOMO, FRM, FZD, HKL, HUD, IHKA, JBBF, KBM, KGM, KOMBI, LMA, MASK, MMC, MMI, MPM, PDC, PGS, RAD, RFK, RLS, RSE, SASL, SASR, SBSL, SBSR, SD, SECUR, SFZ, SGM, SHD, SHZH, SIM, SSBF, SSFA, SSH, STVL, STVR, SZL, SZM, TEBF, TEFA, TEL, TMB, TMBH, TMF, TMFH, VID, WIM, ZBE, ZGM
BMW Explorer
Features
Diagnosis and interpretation of error codes
Reading and adjustment of run hours and maintenance intervals for: Oil, Filters, Brake pads, Spark plugs, Liquids, Inspections and services as well as СО, СН inspections etc.
Adjustment of mileage and maintenance intervals
Change/Adjust FA code (currently in test mode)
Read/Write RAM/FLASH/EEPROM *
Read/Write ISN (marriage CAS and DME/DDE) *
ELV Reset (steering wheel lock)
Key read/write via OBD2 in CAS1, CAS2, CAS3, CAS3+ * (even after update by ISTA/P version 38!!!)
Lost keys blocking/unblocking
Change AIF (indexes of programming)*
Reading the last saved mileage from ECU
VIN change *
New battery registration
* Features depend on the ECU type and production year.